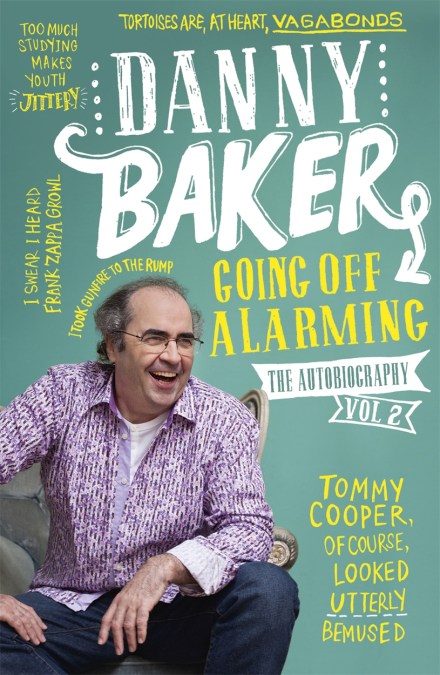 The dazzlingly funny second volume of Danny Baker's memoirs: the television years.

Since my first book was published I have had countless friends and family members get in touch to say how come I hadn't included this story or that tale. Was I ashamed of being shot twice, once up the arse, in Jamaica Road? How long should a man live with such a secret? If by retrospectively dropping my trousers every few pages I can reveal a fuller picture of myself during these years, then so be it.

Besides. Being shot up the arse. In front of your mates.

What else did I forget?
Reviews
From presenting cheeky trivia on teatime telly to a disastrous panto sting, he's like a living poster of Kipling's If, happily talking over both Triumph and Disaster. ...his own talents, at least as a memoirist, are closer to that other driven south Londoner Spike Milligan.
Going Off Alarming is quite simply the funniest book you'll read all year. Seriously. ...Like its predecessor, the book is a hoot from soup to nuts, easily as funny, as self-deprecating and as worldly-wise as The Moon's A Balloon by David Niven. If you have been unlucky in life, and have spent the bulk of it without coming into contact with him or his work, then this book is a wonderful introduction. What's it like? Well, it's like Tom and Jerry written by a Cockney Roddy Doyle on Prozac. But funnier.
..great company and a brilliant raconteur.
It's the strength of the anecdotes, and welcome digressions from the narrative, that make the book such a delight.
Volume two of Baker's autobiography rattles along at the same delightful and dizzying pace as its predecessor. ..Baker loves a tale told at his own expense and they come thick and fast. He writes like he speaks, with hyperactive garrulity and a rhetorical flourish. ..there is something about Baker in full flow that is affirming. Book three will doubtless be out for next Christmas but, when it comes to the Pangloss of Deptford, you are happy to forgive him the indulgence.
For comic value, go for Danny Baker's latest memoir. The funniest book Dylan Jones has read all year.
Any autobiography that opens with the author being shot in the buttocks demands your complete attention. This book made me howl with laughter