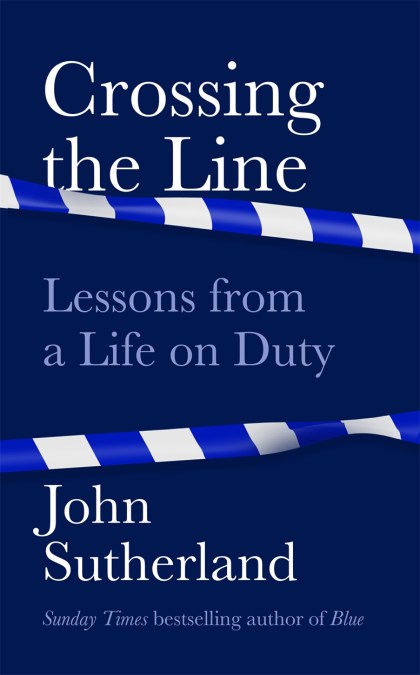 'A love letter to police officers and the most vulnerable people they protect and serve' CHRISTIE WATSON, author of THE LANGUAGE OF KINDNESS

'Urgent and compelling. We all have lessons to learn from this book' SIMON MAYO

As a society, we are captivated by policing; we watch police procedurals and fly-on-the-wall documentaries and absorb the headlines on the rolling news. Yet how much do we really know about the world that policing inhabits and reveals?

In his deeply revealing new book, John Sutherland invites us to step behind the cordon tape and bear witness to the things that he has seen in his twenty-five years of service with the Metropolitan Police. Tackling ten of the biggest challenges facing society today – from alcohol abuse, drug addiction and domestic violence to knife crime, terrorism and sexual offences – we are introduced to people who have been pushed to the limits and beyond. In doing so, we gain a clearer sense of what needs to be done to make our neighbourhoods safer and to transform the lives of those we live alongside. Eye-opening, courageous and moving, CROSSING THE LINE is a book that will change the way you see the world around you.
Reviews
A love letter to police officers and the most vulnerable people they protect and serve
This is an important book, one that should be read by the Home Secretary and every member of Parliament, as well as every newspaper editor and crime correspondent. John Sutherland is someone who after twenty-five years of police experience has a remarkable story to tell . . . one that we ignore at our peril
This book will change the way you think about the police. A rich and reflective account, full of anecdote and lessons learned about society from someone who spent his career working at its fringes. Anyone who cares about justice - whether citizen or politician - should read this book
An incredibly thoughtful, eloquent, and revealing book about policing. Not only is it absolutely fascinating, there are also a whole heap of lessons that can and should be learned within its pages. Accessible, considered, meaningful, shocking, inspiring
I've never heard the job described better by anyone. John Sutherland gives a unique and personal insight into what it really means to be a police officer in modern England. The adrenaline rushes, the dreadful tedium of bureaucracy, walking on eggshells for fear of offending anyone, the moments of stark horror or overwhelming sadness; the indescribable thrill of making a difference to someone's life and the depths of despair when you fail. The overwhelming workload and the emotional overload, seeing more things daily than most people will ever see in a lifetime. Running towards danger when everyone else is running away. A job that on any given day can send your spirits soaring to the heavens, or leave your soul scarred forever
Urgent and compelling. We all have lessons to learn from this book
Honest and sensible . . . without being sensationalist or sentimental, Sutherland lifts the lid on that underworld of despair, degradation and needless death. It's a read that should shame anyone with a conscience
The most comprehensive insight into policing I have read . . . well researched and crafted with the deftness of an exceptionally fine writer . . . compelling
Tough, earnest, thought-provoking and moving, this is a book that lingers
Tough, earnest, thought-provoking and moving