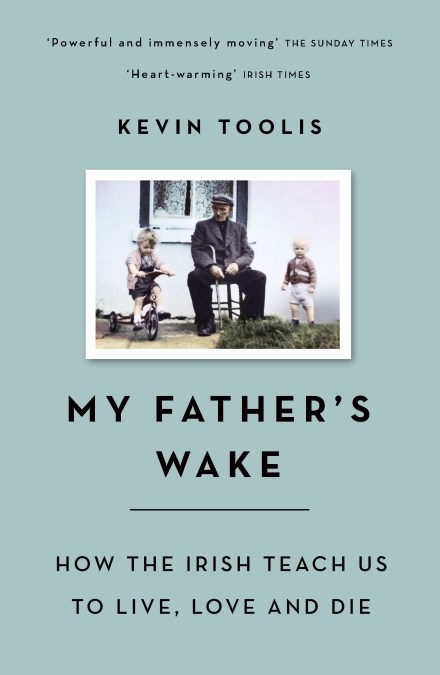 My Father's Wake
Death is a whisper in the Anglo-Saxon world. But on a remote island, off the coast of County Mayo, it has a louder voice. The local radio station runs a thrice-daily roll-call of the recently departed. The islanders keep vigil with the corpse and share in the sorrow of the bereaved. The living and the dead are bound together in the oldest rite of humanity. In My Father's Wake, Kevin Toolis gives an intimate, eye-witness account of the death and wake of his father, celebrating the spiritual depth of the Irish Wake and asking if we too can find a better way to deal with our mortality, by living and loving in the acceptance of death.
Read More
Reviews
A gut-wrenching exploration of death from an Irish perspective ... A fascinating view of what most of us try not to consider: the end of life ... This book is not for the faint of heart, as the experiences [Toolis] shares will leave readers emotionally raw. It is unquestionably rewarding, however, a thought-provoking argument against a sterile and industrial view of death ... Intimate, eye-opening
An enlightening and unflinching dispatch from the frontline, an embedded report by an eyewitness who tries to face death squarely without recourse to mysticism, sentimentality or delusion
As a boy, he learned to kiss the corpse at a traditional island wake. As a film-maker and witness to death in many conflict zones around the world, Kevin Toolis has written a profound book on the culture of grief and death, placing the personal alongside the political in a vivid exploration of our ancient ways of coming together around the dead. This is a moving family story, a memoir of loss and exile, a deep understanding of what makes us alive, casting a cold eye on what is precious and so often denied
The 'Western Death Machine' has hidden the dead and dying, but in a remote island off the west coast of Ireland, an almost Homeric society clings to the old ways. The dying are treasured and tenderly watched over, the dead are honoured with the ancient rites and rituals. Contemporary western ideas about death are dominated by individualism; My Father's Wake is a lyrical description of how community and tradition help us deal with our mortality
A heart-warming and very personal account of a life well-lived
Powerful and immensely moving
His moving memoir is a powerful reminder that the end of life is as precious as its beginning.
A broadside against collective [death] denial. In its alternating shifts of focus, from the intimately personal to the more journalistically detached, it lays bare the desperate numbness that accompanies that denial
Toolis writes superbly ... it's as a memoir that this engrossing book works best
The windswept Irish island of MY FATHER'S WAKE is one of the final remote outposts of true death engagement in the Western world. Toolis's book is both memoir and anthropology, and serves as a refreshing counterpoint to the industrialized, for-profit death industry we've come to wrongly believe is our only option