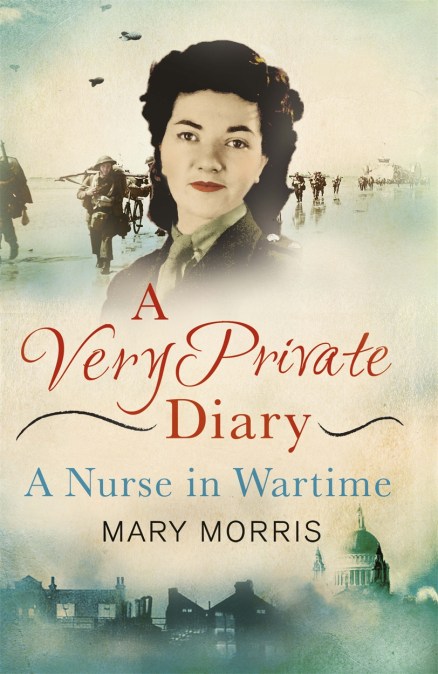 The newly discovered diary of a wartime nurse – a fascinating, dramatic and unique insight into the experiences of a young nurse in the Second World War.

'I always seem to be saying good-bye to men whom I might have loved had there been enough time…'

1939: 18-year-old trainee nurse Mary Mulry arrives in London from Ireland, hoping for adventure. Little did she know what the next seven years would bring.

In her extraordinary diary, published now for the first time, Mary records in intimate detail her life as a nurse, both on the Home Front and on the frontline. From nursing children during bombing raids in London to treating Allied soldiers in Normandy, Mary's experiences gave her vivid and unforgettable material for the private diary she was dedicated to keeping.

Filled with romance, glamour and inevitably sadness, too, these are the rich memories of an irrepressible personality, living through the turbulent years of the Second World War.
Reviews
Mary Morris's absorbing diary is a tonic to so many outsized histories of the second World War by those who had not been there. ....In pithy, occasionally sardonic entries, Morris builds a picture of the pity of war and, above all, the moral and material ruins of post-Hitler Germany, where she danced the nights away in Allied officers clubs but also got to know the stench of diphtheria ("so foul and sickly") and gangrene. The scenes of horror and distress she recorded are leavened by childhood reminiscences of the Connemara coast and the glories of whiskey fruit cake.
Keeping a diary during active service was forbidden, so this book offers a rare insight into the important roles of nurses, both on the Home Front and the frontline during the Second World War from their own viewpoint.
Diaries transport us back to the events they describe with a vividness other sources cannot match. This diary, recently discovered in the archives of the Imperial War Museum, was kept by Irish nurse Mary Morris to record her experiences during and after the Second World War. Her strength of character and spirit shine through. ....day and night she faced the grim experience of nursing battle casualties. The constant hunger from insufficient rations, catching diphtheria, and being injured by shrapnel failed to daunt her.
Throughout it all, Mary's sense of humour and her high spirits rarely failed ... Mary is a talented writer and a humane observer of her remarkable experiences. Her diary is full of vivid, sometimes shocking vignettes ... [A] fascinating and deeply moving book
A remarkable work ... [Mary] was a lucid observer of some of the most cataclysmic events in history
We know so much about Mary's war because she broke the rules. Keeping a diary was strictly forbidden while on active service, which makes Mary's remarkably complete account all the more exceptional