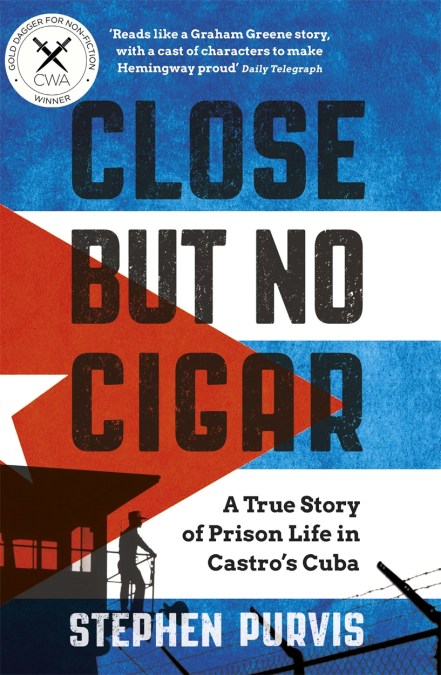 WINNER OF THE CRIME WRITERS' ASSOCIATION GOLD DAGGER FOR NON-FICTION 2017

'In its tragic absurdity, Close But No Cigar reads like a Graham Greene story, with a cast of characters to make Hemingway proud' Daily Telegraph

For over a decade Stephen Purvis had been a pillar of Havana's expat community, one of many foreign businessmen investing in Cuba's crawl from Cold War communism towards modernity. But for reasons unknown to him he was also under State Security's microscope. One morning during the height of President Raúl Castro's purges in 2012, while his family slept, the unmarked Ladas of State Security arrived at his home and he was taken away into the absurd and brutal world of Cuban justice.

In this engrossing memoir, Purvis recounts his fifteen-month ordeal. Accused at first of selling state secrets, he is taken to the notorious interrogation centre Villa Marista, where he endures brutal conditions designed by the KGB and Stasi to break the bodies and minds of spies and political prisoners, and resists the paranoia and incompetence of his jailers. Later, held in a maximum-security prison, he finds himself surrounded by a motley crew of convicts: people-smugglers and drug-runners together with a handful of confused businessmen also awaiting formal charges.

From his arrest to his farcical secret trial and sudden release, Purvis exposes the madness of modern Cuba with wit, grit and a sharp eye for character. As tourists flock to Havana to marvel at a city frozen in time, he shows that despite reforms and international reconciliation the Castro regime remains a corrupt, dictatorial relic. Close But No Cigar is part thriller, part comedy and part morality tale, but most of all a true story that takes the reader into a dark side of a sunny place that remains an enigma.