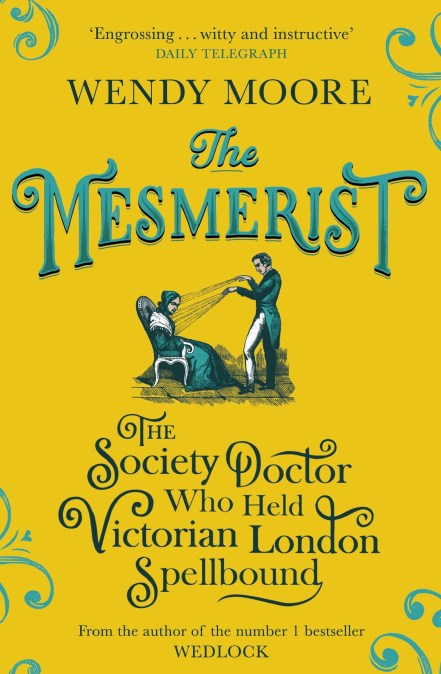 The Mesmerist
Medicine, in the early 1800s, was a brutal business. Surgery was performed without anaesthesia, while conventional treatment relied on leeches, cupping and toxic potions. Two pioneering men of science aimed to change all this – the progressive physician John Elliotson, and Thomas Wakley, founder of The Lancet magazine. But when the flamboyant Baron Jules Denis Dupotet arrived in London to promote the latest craze that was sweeping through Europe – mesmerism – the scene was set for an explosive confrontation . . .
Read More
Reviews
Lively...Moore tells her story with gusto
As in all her works, Moore provides evidence of meticulous research with copious notes to be appreciated by the medical historian and her acknowledgements demonstrate the breadth of her consultation...an invaluable addition to the literature on the struggle between science and superstition.
Elliotson, as Moore's engrossing study describes, became passionate about hypnosis, under which (he tried to prove) a patient could have surgery without pain. His demonstrations became as fashionable as any theatre - but was it fraud?
The author's dry asides combined with the unsentimental light she sheds on medical experimentation make this an informative and riveting page turner
Charles Dickens, as it happens, has a cameo role in Moore's book. Sceptical at first about the powers of mesmerism, the novelist became a convert after witnessing one of the many sessions run by John Elliotson, the doctor who helped to start a craze for putting Londoners, sick and healthy alike, into trances
The idea of a higher, healing state took 19th-century society by storm but, as this lively book shows, it was to prove controversial
Medicine in Victorian Britain was brutish and operations were performed without anaesthetic. Enter the self-styled Baron Dupotet, promoting hypnosis. Crowds flocked to see Elizabeth and Jane Okey mesmerised then suffer electric shocks or have nails hammered through their cheeks. So was his mesmerism quackery or real medical aid?
Engrossing...her social history of Victorian medicine, which struggled with innovation and provision for the poor, also feels rivetingly topical...[A] witty and instructive tale
Fascinating...she brings the London medical world to vivid life. Elliotson's experiments were covered in lavish detail by contemporary journals, but Moore has made this an altogether richer story by judicious use of details gleaned from diaries, case reports and hospital archives
Wendy Moore is an expert guide to the world of early 19th-century medicine, and this fascinating book is packed with buccaneering, larger-than-life doctors and gruesome operations, as well as the minutely documented antics of the Okey sisters. UCH in those times was evidently a much livelier place than it is today under our dear old NHS
Highly readable and entertaining
Wendy Moore has written a thrilling account of this odd byway of medical history...she has successfully taken a historical episode and used it to colour in the world of 19th-century scientific endeavour and its attempts to uncover the still-unexplained mysteries of the human unconscious
The enthralling story of the Victorian doctor who claimed patients could be cured and operated on with hypnosis - only to be branded a fraud by the medical establishment. Today he's been triumphantly vindicated