TIME SHELTER by Georgi Gospodinov – shortlisted for the International Booker Prize 🏆
At London Book Fair last week it was announced that Georgi Gospodinov's TIME SHELTER has made the shortlist for the very, very illustrious International Booker Prize.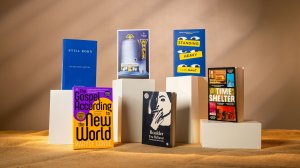 The judges hailed it as: 'An inventive, subversive and morbidly humorous novel about national identities and the seductive dangers of memory and nostalgia.'
They said that, 'it compels us to question our concepts of identity: not just national, individual, societal, but also historical and temporal. How much do we reshape the past to suit our present and our future? In addition to the borders dividing countries, we see that time and memory are also different forms of borders. How do individuals, nations, even continents, decide on what to remember, and what to forget? The novel also makes us contemplate the very concept of Time itself in a different way. Nostalgia is more than what it used to be.'
The winning title will be announced at a ceremony on Tuesday, 23rd May.