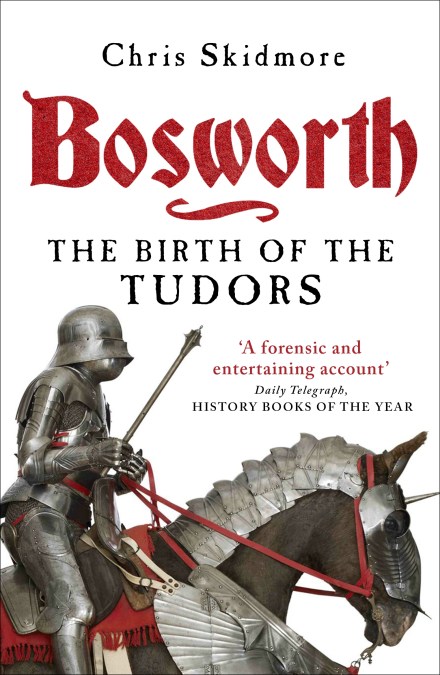 Bosworth
Richard III and Henry Tudor's legendary battle: one that changed the course of English history.

On the morning of 22 August 1485, in fields several miles from Bosworth, two armies faced each other, ready for battle. The might of Richard III's army was pitted against the inferior forces of the upstart pretender to the crown, Henry Tudor, a 28-year-old Welshman who had just arrived back on British soil after 14 years in exile. Yet this was to be a fight to the death – only one man could survive; only one could claim the throne.

It would become one of the most legendary battles in English history: the only successful invasion since Hastings, it was the last time a king died on the battlefield. But BOSWORTH is much more than the account of the dramatic events of that fateful day in August. It is a tale of brutal feuds and deadly civil wars, and the remarkable rise of the Tudor family from obscure Welsh gentry to the throne of England – a story that began 60 years earlier with Owen Tudor's affair with Henry V's widow, Katherine of Valois.

Drawing on eyewitness reports, newly discovered manuscripts and the latest archaeological evidence, Chris Skidmore vividly recreates this battle-scarred world in an epic saga of treachery and ruthlessness, death and deception and the birth of the Tudor dynasty.
Read More
Reviews
Mr Skidmore uses extracts from many contemporary accounts, information from the latest archaeological findings, and the proof discovered recently of the actual location of the battlefield, to great advantage. The discovery of the remains of Richard III in a Leicester car park late in 2012 came just in time for a postscript to be added to this scholarly but readable history
This well researched account of how a complete outsider managed to win the throne in 1485 deserves a place on the bookshelves of anyone interested in the Wars of the Roses ...Chris Skidmore discusses the Wars in general and the politics and personalities behind them, and does so with clarity and verve
One of the most important battles of British history has been in the news recently, with its location debated among archaeologists. Historian Skidmore gives his opinion on this, after skilfully weaving in the events that led to the battle, from Edward IV's death to the march of Henry Tudor, with only a short, vividly described chapter on the engagement itself ... A well-researched account of the battle and events surrounding it
Skidmore's narrative style is engaging, and he sets out fair arguments for both sides ... both the student of this period and the first-time reader would gain a lot of knowledge and enjoyment from this book.
absorbing and beautifully illustrated study of the battle and of the fiendishly complex yet grimly fascinating Wars of the Roses ... Chris Skidmore is a well-informed and dispassionate guide through the astounding switchback turns of fortune's wheel that brought Henry the crown, reputedly found in a thornbush on the battlefield and set on his head by one of those who had deserted Richard
[T]houghtful, well-sourced ... Skidmore is also good on Richard III. He is characterised as bellicose, all too aware of his tenuous grasp on the crown he usurped from his young nephew Edward V ... Skidmore expertly handles the accretion to [Henry's] army of allies and defectors from Richard as it trekked through Wales, a thrilling narrative of overcoming the odds
A forensic and entertaining account of 1485 And All That
An authoritative overview of the causes and consequences of the most important battle in all of the Wars of the Roses
There is a real need for this book, which could not have been published more opportunely ... Chis Skidmore tells the story again, very readably, with an admirably complete knowlege of all the sources and the latest research ... Chris Skidmore has written a first-rate book that will be enjoyed by all those who are fascinated by the Wars of the Roses
[Bosworth] is just the right book for those whose interest has been piqued by the archaeology ... a vivid picture of the death of the last Plantagenet king ... it is certainly now the definitive account of the battle
enjoyable and forensically researched ... Skidmore delves far into the histories of both the Wars of the Roses and the Tudor family ... This fine, scholarly and elegantly written book is well worth reading by anyone who hankers to fill in the many blank patches in one of Britain's most famous battles
An action-packed account of the many events leading up to Bosworth, the last time an English king was to die on a battlefield, of the people involved and of their complex relationships and divided loyalties. With its wealth of local background, its detail and its lively narrative, Bosworth is a must for the reading list of anyone whose interest in Richard III has been either sparked off or renewed by the recent Greyfriars discovery
Chris Skidmore's new book explores the background to Henry VII's claim to the throne and the dynasty he founded, drawing on eyewitness reports, newly discovered manuscripts and archaeological evidence
Skidmore's excellent book...expertly guides the reader through a minefield of facts
No matter how many times they are recounted, the improbable and arduous circumstances by which Henry Tudor came to the throne continue to impress ... Bosworth is a well-executed and well-informed book ... well written and approachable